How to Make Cornice Boards From Foam Board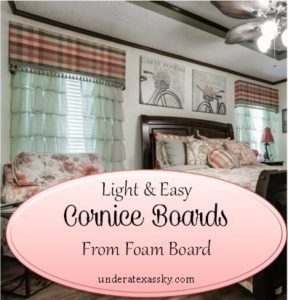 Elegant addition for windows
In this post you can read about how to make easy and light cornice boards from foam board. This idea shared a woman from Forney, TX. She needed cornice boards for her bedroom and looked for it in interwebs. The lady found some information about using board made from foam insulation and decided to try it.
Firstly the woman chose the foam board from the home improvement store. But the man who helped her had a source of some free 2″ foam board (that had been used for shipping) so he grabbed up a couple of big pieces. She thought she needed at least 17 tall and, to be safe, about 50″ wide, but she didn't do any serious measuring at that point.
So, they started working.
Photo: Credit