DIY Wire Basket Side Table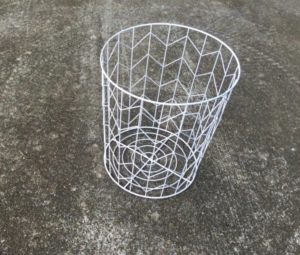 What's the idea?
Gina from Lawrenceburg, TN, needed of a side table. She decided to make ones herself.
What is amazing in this project? She didn't use any power tools.
You think that is impossible, right? Well, she did it. This mission took up her less than 30 minutes of hands on work and only a few supplies (you may have some of them on hand).
Also, you can make the same easy and quickly.
Gina got a basket at a yard sale for 3$.
Nevermind what it was before – a trash can or a laundry hamper. In her hand it was transformed into a side table.
Of course, somebody can use a different basket. It is your choice. Also, you can buy a similar one from a shop.
The most important thing in this case was how she converted it.
Photo: Credit