Headboard with Wooden Lego Design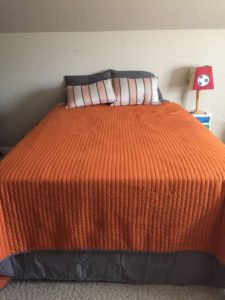 The child room must be attractive
A woman from Fort Knox, KY, created a room for her son with all things that every boy need. She repainted the walls, built a gaming station, built a Lego table, and decorated with several items for the walls. But the boy's room looked boring and uninspired.
You can see on the picture above the bed which had not got headboard. In this case bedroom's vision is uncomfortable. As pillows to put on this bed, there is something unfinished. The decision is to make a headboard.
Well, the mother talk and show us how she made a unique headboard for hers boy room.
Let's see!
Photo: Credit