The Dishwasher is Not Just For Dishes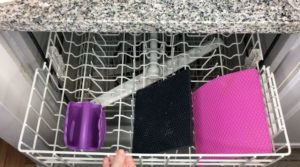 Silicone hot pads and oven mitts
You know how dirty can the silicone hot pads and oven mitts be and how hard can it be to wash them.
So, put your silicone items in your dishwasher and they be cleaned very easy.
In the dishwasher these items will be got off that leftover food and germs off.