Table and Chairs Makeover – Dramatically Transform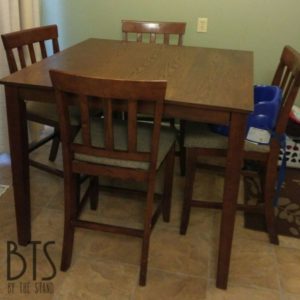 Boring Kitchen Table
Holly Antoine and her husband from Canada recently bought a new home.
For Holly there's nothing she likes better than a good furniture enchantement.
So, she was so excited to share with us how she refreshed her dining set. In the new house there wasn't enough space for her table.
It was 10" bigger and Holly had a decision what to do.
She had two choices – to buy a new set that fit the space or she could just live with it just being bulky… it was not a great option.
At last Holly decided that all she needed was for this table to be 10″ smaller!
Photo: Credit