Completely Transformed Old Closet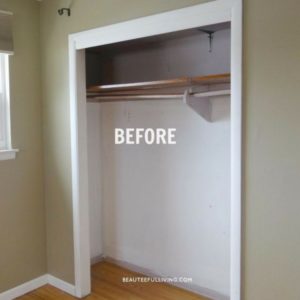 Before transformation
Theresa (Tee) is a woman who had a typical "reach-in" closet that you would see in older homes.
She thought having a "walk-in" closet was the only way her husband and she could share a closet.
But they needed more storage space.
On the picture above Tee has showed us how it looked after they emptied all contents out.
You can see how it was looking.
It was a sad state of affairs with that old, single closet rod.
So, she decided to transform it into a modern, beautiful and storable cabinet.
Photo: Credit