Transform boring transparent glass lamp into coloured one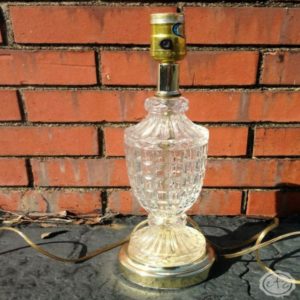 A lamp of Mom's
Betsy from Ozark, AL, had a little lamp from her mother. It was lamp with transparent glass and gold metallic body.
Betsy needed a lamp for her little bedside table in the guest room.
This old lamp was beautiful, but not suitable for rooms interior.
So, Betsy had two options – to buy a new lamp or make-over her mom's lamp.
She decided to make face-lift on the old lamp.
For this project Betsy needed:
DecoArt Glass Stain
White Spray Paint and Gray Spray Paint (flat)
Hammered Spray Paint
Thrift Store/ Mom's Old Lamp
Cardboard
Magnetic Clip
Lamp Shade
Photo: Credit