How to Organize Your Entryway in a Day With a Corner Unit?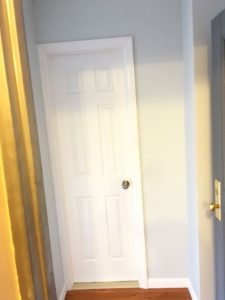 In NYC, every nook and cranny should be utilized!
As soon as you walk into this apartment, you're smacked in the face with a long and narrow hallway to your left and the only bathroom directly in front of you. Where do you drop your keys? The mail? Your purse? We hate shoes piling up on the floor more than anything, so we knew we had to come up with something creative. We had a 14″ x 12″ corner full of valuable real estate, but we knew we couldn't just install boring floating shelves or shop forever for a perfectly-sized, expensive piece of furniture. Reclaimed wood, old spindles, and plumbing fittings and piping would do just the trick. We created a tall corner unit with 5 shelves–perfect for catching those small everyday items that can otherwise make your entryway look cluttered.