How Easy to Make Front Porch Welcome Post!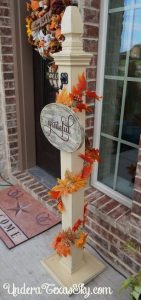 This welcome post is such a lovely
way decorate for any occasion.
This project is pretty easy, but you do need a few power tools to make it. It consists of a 4×4 cedar fence post, a fence post cap, finial, 2×12 pine board, deck post wood trim, and some corner trim for the base.
Fortunately, we were able to use scraps we had from other projects.