How to Organize Your Pantry for $20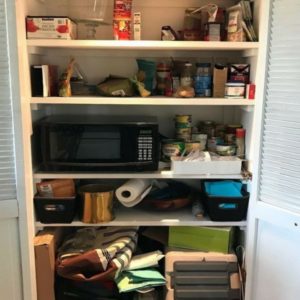 Before
Rob and Courtney have lived in a small house in Mastic Beach, NY. Rob and redesigned the whole closet.
He added floor-to-ceiling shelves and built up the floor a bit.
Courtney has been using the closet primarily as a pantry but also storage for odds and ends such as baking dishes, dog items and her re-usable shopping bags.
She wanted to incorporate more baskets/bins to keep similar/related items together in order to tidy things up a bit as well as has things look a little more uniformed.
So, she decided to makeover her pantry.
Photo: Credit