Make the Impression Entryway Using the Lattice Allowed Wall Pattern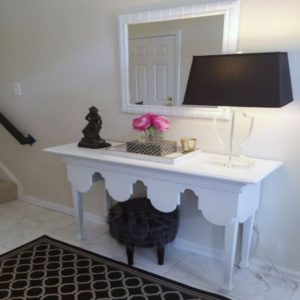 Before
A simple entryway colored in white, with white furniture and decorated with black lampshade, stool and carpet.
It looks really nice but what if you paint it and give it a welcoming tone.
You know from our previous publications Greg Swisher and Janna Makaeva.
They are owners of company produces stencils for amazing home décor.
In this post the professional faux finishers Greg Swisher and Janna Makaeva shared with us an entryway that was enhanced with a wall pattern.
Come take a look…
We'd like to welcome back Sallie Kjos, the interior designer behind GreyHunt Interiors.
Sallie is well-known for designing interior spaces that infuse patterns and eye-catching color combinations.
Photo: Credit