How to Make Glass Gem Coasters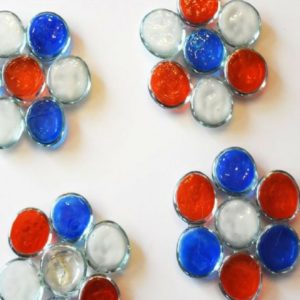 Hey, DIY lovers!
Kelli is one of us – DIY lover from Farmington, NM.
For 4th of July (BBQs and celebrations) she made awesome glass gem coasters and showed us the tutorial of that.
She loves coasters and has made them with tiles, corks, wood rounds and even concrete.
In this case she made coasters from glass gems.
While there was significant dry and cure times for these coasters the actual busy work only took her 10-15 minutes. It's super simple!
Here's what you'll need to make your own Patriotic Glass Pebble Coasters:
• Large clear glass pebbles (You can sometimes find these at the Dollar Store)
• Americana 3D Gloss Enamels in Red, White, and Blue
• E6000 Glue
• Felt in Red, White, or Blue (optional)
Photo: Credit