A Foreclosure Yard Into Gardens of Beauty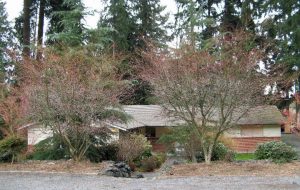 5/1/2015 Update coming soon!
When I returned from England in 2007, I couldn't find a home in the Puget Sound area that I could afford, since I also had to buy a car, all new appliances (because of the different voltage in electrical current) and a half of a houseful of furniture. So, I bought a home in Des Moines Iowa and lived there until March of 2011 when I closed on a bank foreclosed home here in Puyallup. It had been empty for at least a year and not well cared for previously. The bank had slapped some paint on the interior, repaired a little of the wooden fencing, installed new carpet and called it macaroni. Here is what the garden looked like.