Make Wood Sunburst Mirror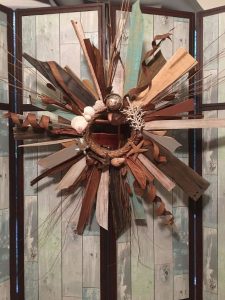 Looking around my work shop,
I was inspired to make this sunburst mirror!
Never having made one before, I had to wing it, but I was happy with the outcome.
First, I gather wood bits and a mirror. Make sure your wood is sanded if needed before you begin. I waited until it was put together, and if I ever make another one, I will sand them first! I used wood glue and screws to hold the pieces together. For the smaller/thinner pieces, I used wood glue and brads.