How to DIY Beadboard in the Entryway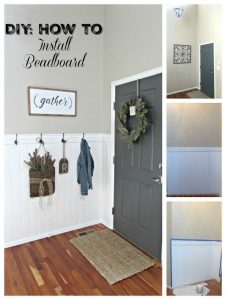 Today I am sharing all the details on the beadboard in the entry!
We still can't get over what a difference it makes in our entry. It adds so much character and gives the front of our home a custom look. If you have been flirting with the idea for a while (like we had), I hope this helps you take the leap of faith to add beadboard to your home! Guys, we love it so much that we added beadboard to our guest bathroom the weekend after we did the entry (details coming soon!).
Let me start by saying this is really easy. I especially love this DIY because any skill level can do this, really! I also have to emphasize it is a really cost-effective to bring a dramatic transformation to any wall in your home! Especially if you buy the 4′ x 8′ sheets, and have Home Depot cut them for your space. It's amazing how far one sheet can go! There are a lot of great options and tutorials for beadboarding with wainscoting as well. We used a 4′ x 8′ sheet of beadboard for this project, so I am going to strictly stick to how we did it with the sheet. There are many methods and they all come out fabulously! With that being said, pick your wall to beadboard, and let's take a peek at how we tackled this beauty.