How to Conceal a Cluttered Shelf?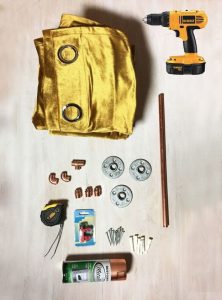 This project has been a long time in the making!
My husband is a filmmaker and his movie collection certainly is quite vast as a result of his love for film. We have had a wall full of movies for years and have always talked about tucking it behind some curtains for a less cluttered look, and we finally made it happen! This is an easy and fun way to conceal a projecting shelving unit that is covered in madness. With a long pair of curtains and some copper piping and hardware, you can cover just about any cluttered spot in the house!
We want to help you DIY, so some of the materials in this post are linked to sellers. Just so you know, Hometalk may collect a small share of sales from the links on this page.