30's Liquor Cabinet Ready to Shine Again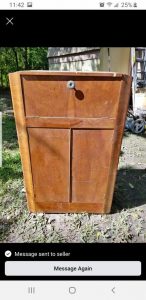 I found this Liquor cabinet on Facebook marketplace and was super excited to start working on it!
it didn't look like much but I knew it had lots of potential. I had picked it up at a mobile home park in Houston. When I saw that it was made in London I wondered how it got to Houston. That is a beauty of working with vintage furniture and the beauty of owning them is that it tells a story. I imagined this piece has seen many lavish parties and my goal was to make it look as posh as possible so it can be a star of the party once again!