A Tile Floor For Less Than $100 – Made With Stencils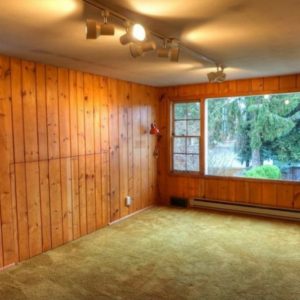 Renewing the floor
Janna Makaeva and Greg Swisher from  Ramsey, NJ  are long-time professional decorative artists.
They produced stencils which help to decorate walls and floors easy, fast and the most important – inexpensively!
If you have a floor that is in serious need of a pick me up but your budget can't accommodate a complete overhaul, so, in this post you can find a perfect solution of your problem.
Using only paint and a stencil pattern you can give your floor a fresh new look.
These wonderful artists shared with us a studio floor makeover.
The studio's owner was a woman called Kippi.
The aim of this project was to tore the dirty carpet up and to reveal a dated tile.
Photo: Credit