Make Master Bedroom!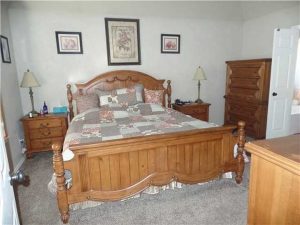 It is finally time for our Master Bedroom Reveal!
This room has been by far the most challenging room to date. We had numerous setbacks and there were times I wanted to pull my hair out but it all came together in the end.
If you have been following our journey you know that we purchased dark furniture when we moved into our home, only to regret it a short time later. We did not take the time and actually think about what we wanted from the space or how we wanted our home to feel. Needless to say, we are now having to go room by room redoing everything! Before we dive into all of the updated goodness you have to see the before to fully appreciate it for what it has become! This is what it looked like before we bought the house.