Make Master Bedroom!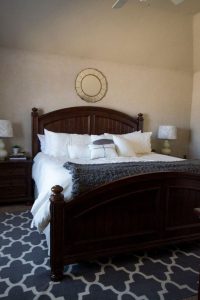 Here is what it looked like before we painted
and updated everything. It wasn't bad just wasn't us.
This space started as all of our makeovers do, with a mood board! You need a plan to prevent unnecessary purchases and it helps if you can actually see what things will look like together. You see those roman shades? Well, I worked on them for a week and a half, sewing by hand mind you, and when I went to hang them they weren't functional at all! We tried all kinds of things to get them to work to no avail. Finally, I decided to move forward without them and revisit that at a later date. Talk about frustrating. For the most part, everything ended up just like we planned though.