Inexpensive DIY Coffee Table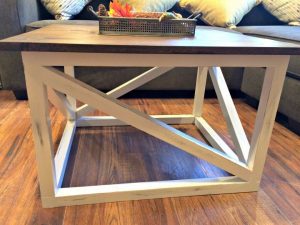 After a few weeks of searching thrift stores,
Home Goods, Overstock etc. for a coffee table for my newly renovated basement
I gave up! I couldn't find what I wanted within my budget… soo you guessed it… I decided that I (By I, I mean Jason) would
Before we get going on the how to, here is the finished product!… I am so proud of myself / us for making this! I feel like I am becoming obsessed with woodworking, and don't hate the feeling!
I just love the result and can not believe we managed to make this ourselves.