Closet Door Built-In Storage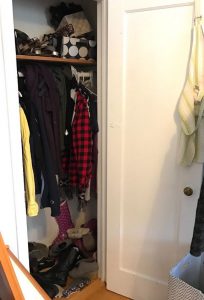 Okay, so I have to admit, I have A LOT of shoes.
I'm not the type to put away my summer shoes during winter,
because you never know when you need a pair of flip flops or open-toe heels during the colder months
(call me crazy but I don't stick with the close-toe heel rule…if there is one).
Because I don't put away my summer shoes, coupled with the fact that I have a ridiculously small closet, it can look
BEFORE:
HOT MESS!!!
I promise all of my clothes are nicely hung and in some what of a style coordination, however, I don't want to ruin my knit cardigans by hanging them on hangers so I just hang them over the middle of my closet rack. If anyone has a solution to this issue, please feel free to share! I don't have any drawer space for them, otherwise I'd fold them. I'm beginning to think I'm going to need to figure out another project for additional clothes storage (maybe I'll mount some more crates on the wall..?).