Remove Embarrassing Bathroom Odors, With an "MG"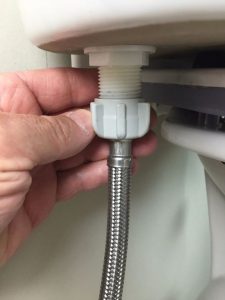 First turn off the water supply
to the toilet, flush the toilet to remove water from water tank and then, using a sponge, mop up any excess water still in the tank. Now disconnect the water supply hose from the water tank.
Using painters tape, outline the water tank on to the wall.
Now remove the water tank. Place the supplied 8″ x 8″ access panel as you see in the above photo and outline it with a pencil. Then place painters tape on the INSIDE of the access panel outline.