How to Front Door Make Over?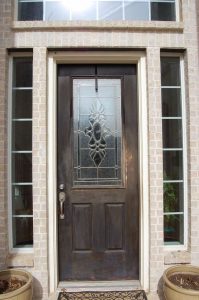 Southwest facing front doors in Texas take a real
beating from the sun and elements, mine especially! Every year I would lightly sand and add several coats of stain sealant (1 product). Over time this really began to build up and not look as neat as I would like. Because it was easier to hide this with a darker stain, I eventually wound up with a very dark door that was badly in need of a complete refinishing. I looked into purchasing a new front door and WOW, they are expensive! I am so glad I went to the work to restore mine.