How to Make Floral Hoop Wreath?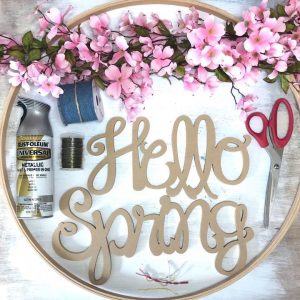 Today, here in New York,
it is gorgeous, sunny and 62 degrees outside. Yes, there is still snow on the ground from our big snow storm we had a week or so ago, but spring is definitely just around the bend and I couldn't be more excited! Spring for me means sunshine (yeah yeah, I know, there will be "April showers" but I'm just thinking sunshine right now), birds chirping, the fresh smell of the air, beautiful blooms and a new baby girl for me and Rob. This project is the perfect addition to my spring decor and I hope y'all love it as much as I do! It was easy to make and can be changed up to match whatever season we're in and whatever style you may have.
We want to help you DIY, so some of the materials in this post are linked to sellers. Just so you know, Hometalk may collect a small share of sales from the links on this page.