DIY Project.. Oh the Things I Have Learned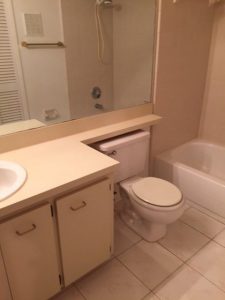 I had a boring old plain Jane beige 80's bathroom.
I desperately wanted to do something but had never done anything other than paint a wall.
I had to look up on youtube how to put a drill bit into a drill. So many lessons I learned in doing this. Trust me when I say nothing went right the first time. This site and all blog DIYer's sites provided me with the courage to give it a go..
I have now tackled the entire house..Yikes!
The different things I did.
The miracle of paint. I painted the entire tub area, the floor, cabinets. Textured my walls with drywall mud, made a concrete counter top and replaced all faucets and made a mirror mosaic on the existing plate glass mirror.