How to DIY Nightstands on a Budget?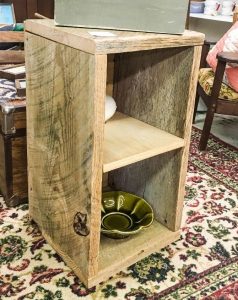 I recently made over my youngest son's bedroom.
I wanted to stick with the modern vintage vibe that I was going for in his room, but didn't want to spend a fortune on vintage nightstands. So I started thinking about how I could DIY nightstands that would fit the look of his room. And this is what I came up with…
I didn't want to use new wood on this project because I wanted the wood to have some character. You can't necessarily go to the local hardware and get old wood, so I headed to a local antique shop to see what I could find. I found this little shelf unit for a steal of $18 and knew the size of the wood on each side would be perfect for my project. And I'd even have some leftover pieces for another project. Score!