Build a Trellis and Make a Privacy Screen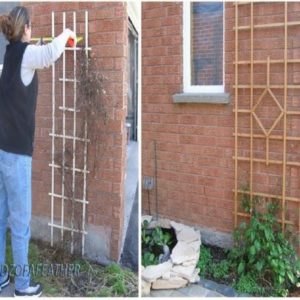 Why do we have to do that?
Many of us have lived in a suburban neighbourhood, where the houses are too close each other.
Just so have lived a Canadian family and the woman showed us how they made an amazing trellis and built a privacy screen.
Also this project added a personality look and a beautiful view in their yard.
At the beginning they started with one of their trellis projects.
The family built it by the little pond near their front door.
Firstly they moved the old trellis and made a bigger one and planted clematis below the new trellis.
Photo: Credit