Amazing Bathroom Makeover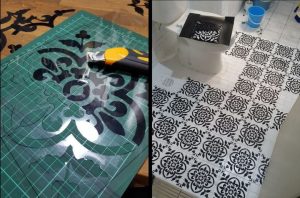 This is a 2 part epoxy paint for exterior surfaces.
It comes in 4 liters of paint + 1 liter of hardener.
>Mix the 2 together and you get a durable, long wearing paint. Before painting, I scrubbed the walls clean and let it dry. Normally you'd put a coat of primer, but I decided to pass that step because my tiles were matte and rough to the touch and I was quite confident that it would take the epoxy well. Using a roller gave me a better finish. After 4 coats of paint, I am pretty pleased with the results. The paint feels good to the touch too.