Tutorial – Abandoned to Refined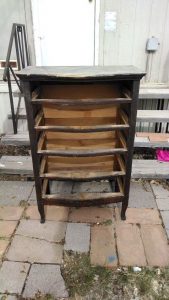 One night my friend texted me asking about furniture restoration.
She had saved an old dresser from the trash but did not know how to make it beautiful again. It was an older style, antique dresser. It was wood but it had veneer drawer fronts. After some back and forth we discovered her style and color preferences and made a plan. I couldn't wait to turn this poor, decrepit dresser into the ravishing beauty she deserved to be!
I neglected to take a full before picture with the drawers in place. The body of the dresser was in pretty good shape. It took an evening of sanding to get the body flawless.