How to Decorate Vintage Umbrella on Door?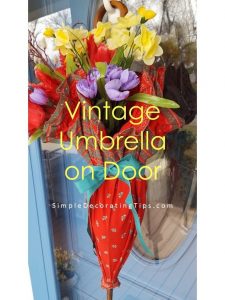 I tried my hand at creating a vintage umbrella
on door display like that and it didn't go exactly as I envisioned…
Hi Liz here from SimpleDecoratingTips.com a DIY & decorating blog where I share my experiences as a designer and DIY-er to encourage you to try something new too. Sometimes my projects don't turn out like I expect though.
April showers bring May flowers.If you've been on Pinterest lately, you've seen them… those cute umbrellas with flowers spouting out the top, hanging on the door for a fun Spring welcome!