How to Upgrade Ikea Mini Drawers with a Map and Leather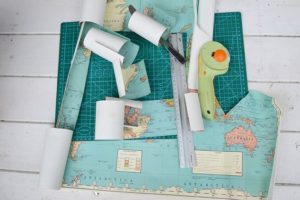 Preparing the paper map
While the chest was drying, Claire prepared the whole world map with measuring and cutting skills.
This part of the work was the most exciting because she wanted the front of the drawers to look like the whole map of the world.
To achieve this, the woman removed the drawers from the chest placed them together face down on the map wrapping paper and drew around them.
Clire cut them out on a cutting mat with a rotary cutter.
Then she did decoupage on the front of the drawer fronts.