How to Total Nightstand Makeover and Organization DIYs?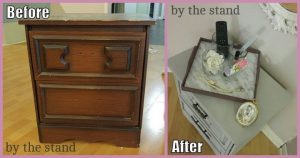 In the spirit of the new year,
I have one resolution that I intend to keep! My nightstand tends to be a bit of a dump heap. It is a lot like some people's junk drawers — I just toss stuff in there when I am tidying up, but I am sick of having to dig through it every time I need something. I have come up with a couple of DIYs to help keep my nightstand clean and organized. I have also made over an old nightstand so I have "brand new" nightstand to keep clean this year.