SPiT Opal Technique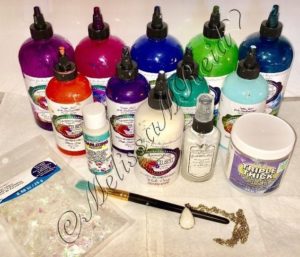 Idea from Melissa:
There is a unique idea that I found from this wonderful woman from Linden, VA. I will expand it and offer my DIY inspiration here. This is almost like a new form of coloring therapy to share with you.
Crafting something with our hands is probably one of the most relaxing techniques. You can be completely absorbed in the process. The psyche enjoys the colors of paint, confetti, and any other multicolored material.
Dive into a meditative state and create a colorful array of artsy objects for your home or office. Several coats of color will act perfectly; they change every time you look at your homemade piece of art. It is also a low-cost project.