Exterior Makeover Quick & Easy!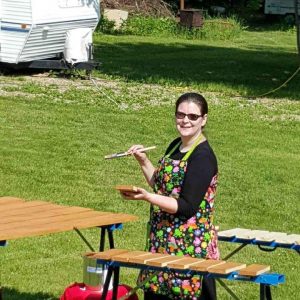 Here is the cute 'before' . . . when it was my mom's style/taste.
I removed the existing shutters and sold them on Kijiji (Canada's version of Craigslist).When Dad had built the original brick red shutters, he used 1×3 strapping. Each shutter had 3 'slats'. When we went to the local lumberyard, I fully planned to buy enough strapping to have 4-slat shutters. The problem was that they were not willing to let us pick through the rough lumber to choose the best pieces (like Dad was able to do when he had built the original ones). They would only allow picking the best 10 pack bundles. That would have meant a fair amount of wastage. On a desperate whim, I asked the price of wider width cheap lumber and shockingly enough, I was able to get all the lumber I needed AT THE SAME COST as simply buying just enough strapping (without wastage)! I got 1×5 straight edge cheap lumber that was in much better shape than the strapping. I used 1×4 rougher lumber for the 'cross bars' of the shutters.To determine the size your shutters need to be, measure from the top of the exterior window moulding to the bottom of the window moulding.