DIY Spray-Painted Lamps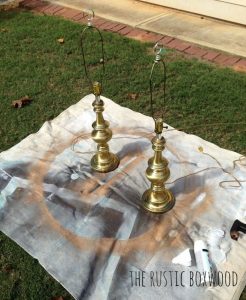 Hello friends! For a few weeks,
I've been on the hunt for a pair of matching lamps for our master bedroom….Lamps that had pretty curves for the right price!
My goal was to get a steal of a deal…no more than $15 each. I realize that's cheap, but I also knew that, with a little patience, I could find what I was looking for. So a few weeks ago, I found these beauties at a yard sale! The man was selling the lamps for $5 each. But since I wasn't certain that the lamps worked, I offered $4 for the PAIR, and he said yes! Can you believe it?! I kept my fingers crossed, hoping that when I plugged them in at home, they'd actually turn on. Aaaaaand….they did! Score! Sometimes it doesn't always work that way (regarding electronics at yard sales), but yay for times when it does!!