Makeover-Plus New Update $100 Kitchen Cabinet!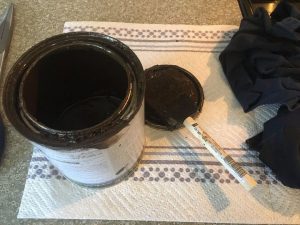 I recently saw another post on here where someone
used General Finishes Gel Stain to redo their kitchen cabinets. I did a little research and after picking a cabinet I decided to do my own!
I decided on Antique Walnut since I thought the Java color might be too dark for my tastes. I am loving the outcome!
I started by cleaning all the cabinet doors, getting all the grease and grim off. I removed the hardware and took the doors off the hinges. We then painted the frame first.