Install A Rain Chain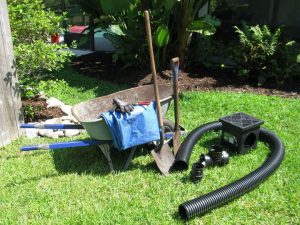 This is the before picture. We didn't have any gutters on the house,
which amazes me that a lot of houses in Florida do not have gutters. We had a lot of run off on the sides of the house but the main reason my husband wanted and needed gutters on the side of the house was for his new 850 gallon rain barrel. Yes, I said 850! That will be an upcoming post on our blog so please don't forget to visit.
A catch basin is needed for where the water is collected.