Make An Organized Kids Closet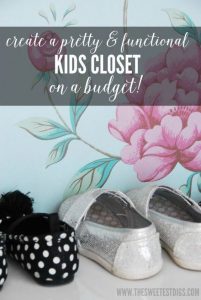 I'm back today with the 'afters' of Maya's closet.
We tried to keep this one on budget, and I'm pretty happy with the way it turned out. It is pretty but also packs in function. And the best part? We still have some room to grow into it. She definitely has the nicest closet in the house – lucky little lady! After finishing the wallpaper, it was time to create an organized closet!
In order to figure out what made the most sense for how to lay out the closet, we wrote out a list of what we would be wanting to store in there. In her dresser, Maya has her tee-shirts, long sleeve shirts, pants/leggings, and PJs.