Fashionable Vanity Makeover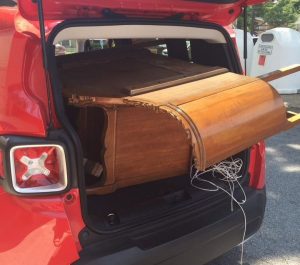 This is me.
Determined to take it all home in my little red Jeep. And I did. After a few "you'll have to make two trips" comments from the folks picking through the remnants of the final minutes of the tag sale- I showed them. One unsafe, clumsy trip later, we were all home.
Here's the scrub down. Doors off. I was getting a vision! Now all of you paint haters out there will cringe.. but really? She was broken, battered and ignored!