How to DIY Gorgeous Industrial Farmhouse Desk?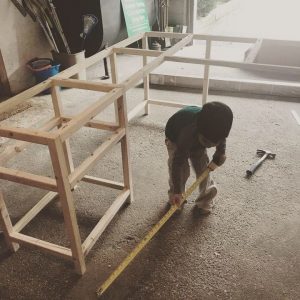 pocket hole screws and kreg jig
Black paint- quart (satin finish)
Gray stain
Polyurethane (satin finish)
What I learned:
It is best to use two pocket holes on the 2x2s. It can be hard to get two pocket holes side by side on a 2×2, but if you don't the pieces will rotate with movement and it won't be super sturdy. Also, wood glue should be used at every connection.
Paint with a sprayer: saves time, money (less paint), and gives a great finish! This is definitely an optional step if you don't want to commit to a paint sprayer just yet. But if you've been thinking about it, I highly recommend!
Getting Started
Literally months have been lost on looking for the perfect desk. Combing Pinterest, online shops, yardsales; I've literally looked everywhere. Spoiler alert: It doesn't exist! Not saying there aren't hundreds of lovely stylish desks out there, but are they really perfect in size, design, color, organization for your particular space? Chances are, they probably aren't.