DIY – Crackled Glass Vase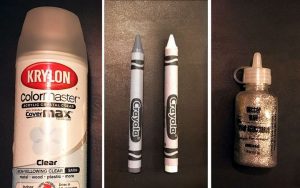 I've always loved the look of crackled glass, and wanted to make my own.
So after experimenting for a while, I've come up with a quick and easy effect to give my glass that crackled look!
For this project, you'll need a clean glass piece, Crayola crayons (gray and white), glitter glue
and a clear, non-yellowing protective coating spray.