How Easy to DIY Cleaning Cabinet Storage!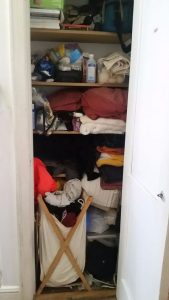 No kidding. This black hole used to be
our linen and storage closet 🙁
As my husband put it: anything goes in but nothing ever comes out. (That is, once in the closet we wouldn't be able to find it anymore.)
Until now that is.
And the most amazing thing is that as in a black hole, it has expanded!
STEP 1: START BY ORGANIZING
YOUR CLOSET
Before you even plan what storage units to hang from the door, I suggest you organize the closet.