How to Banishing the Boring Narrow Hallway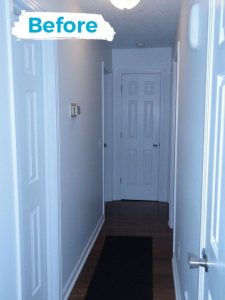 I did a post earlier this year on stenciling my boring white hall.
It is very narrow with multiple doors. I did not want to do the typical thing of hanging family pictures and the hall is too narrow for furniture or even shelves. To add interest, I decided to stencil the upper half and my sweet Hubs did 'faux' panels on the bottom. If you're interested, .
Finally, I found three metal pieces to decorate the walls. Please let me know what you think. We finally replaced the builder grade ceiling light, so be sure to go to the last picture to see the updated light fixture that we created from a 1920's lamp shade.