7 DIY Raised Garden Bed Kits To Easily Create in Minutes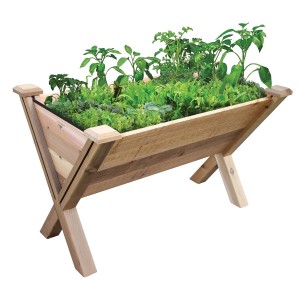 With weather outside getting better we all start to think about the garden and how we can make more appealing and beautiful.
It's always hard to find the best garden bed kit around so you have two options: either buy one or create one. I think most of the kits sold on the market can be created by myself If I just have some time and desire to build them. Anyway, you can check these options and choose for yourself.
"Unfortunately, some of kits can be a little labor intensive to put together. Here are seven kits that take most of the work out of the process. They range in price but you can find quality kits starting as low as $60.
1. Cedar Wedge Garden Bed
Eco Modular Rustic Garden Wedge and Extension Kit, $189
This little wedge is the perfect compliment to put on your deck.   Made out of cedar, this wedge design allows for roots to go deep into the soil without taking up too much space.   Best of all it doesn't require the use of any tools to install.