How to Make Rock N Glam Vanity?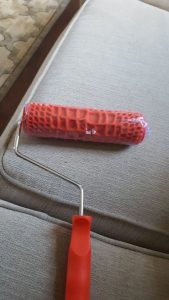 the white that was on this piece was done
by someone else and it was a very bad application job. the piece was sanded down to remove the paint. i painted it 3 different colors before i finally liked Weathervane by Wise Owl.
I knew i wanted to add some "rock n roll" texture so I bought this roller – it's crocodile pattern. I added some texture medium to my paint and brushed it on – and rolled through