How to Make an Underground Oven in Your Backyard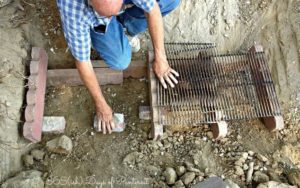 First step
The first step in this project was digging the hole in the ground.
The dimensions of the hole were 5′ by 1½' and 2½' deep to accommodate the grill racks.
The spouses used bricks to lift the racks off the ground and leave room for the hot coals.
After that they built up with cinder blocks so it was completely lined all the way around.