Fairy House From Cinder Block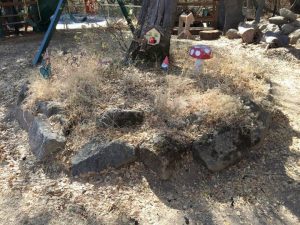 As you can see from the above picture,
we had a small fairy house attached to the front of the tree that my husband made of wood, and then my mother-in-law painted. This was done for my daughter's 3rd birthday party which had a fairy theme. You can see those fun party details here: http://www.pinspirationmommy.com/magical-fairy-birthday-party/
We thought it would be fun to add on to that single fairy house and create an entire fairy garden in the area under the tree. So we spent quite some time clearing out all the weeds and putting down weed blocker.