33 Lovely Reading Nooks for Ultimate Relax and Tranquility
18. Wooden reading nook/bench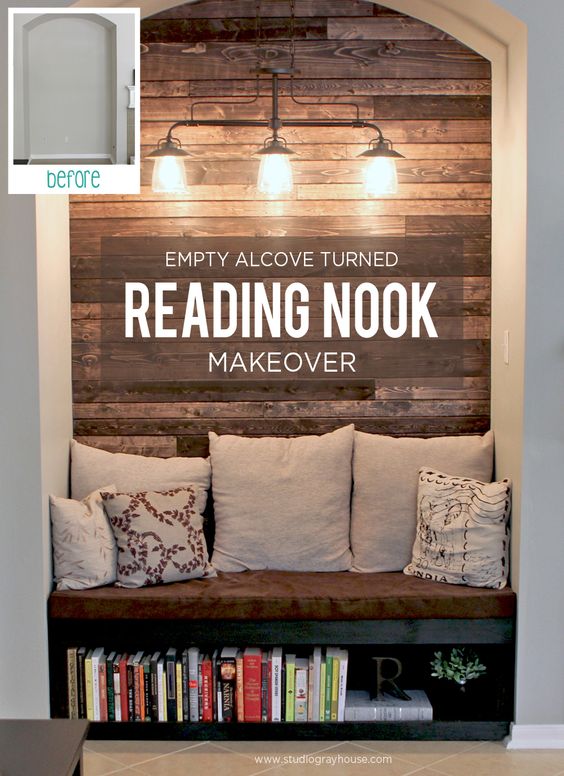 Photo:Credit
If you find yourself with an empty alcove at home, you can easily transform it into a wooden reading nook bench. Find out what color goes with the wood and add some cushions and blankets to make it cozier.
19. Minimalistic all white reading corner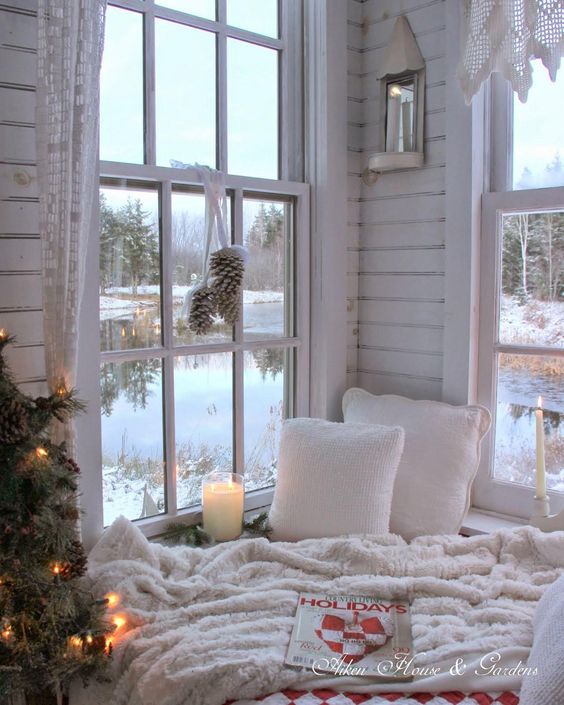 Photo:Credit
As white is the most reflective color, the white objects reflect the natural light and that will make your reading corner more bright and welcoming.
20. Make the wood look old and weathered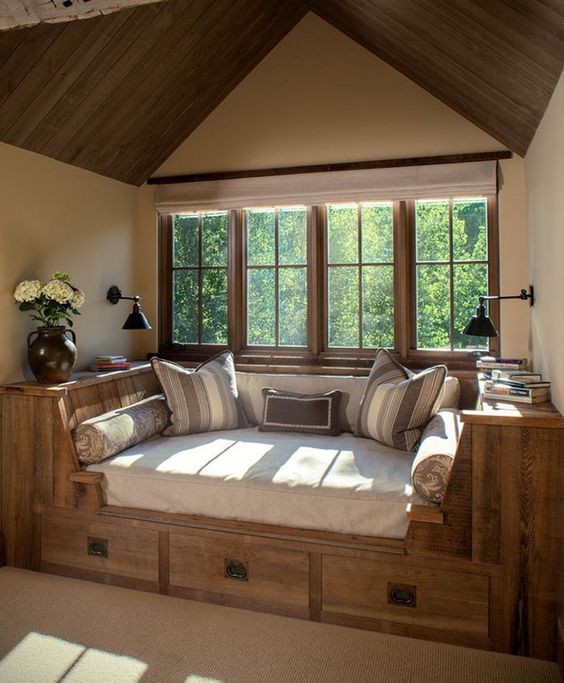 Photo:Credit
There are thousands of smart DIY tricks how to make the wood look old and weathered. That will refresh your attic reading corner without necessarily breaking the bank!
21. Classic under stairs nook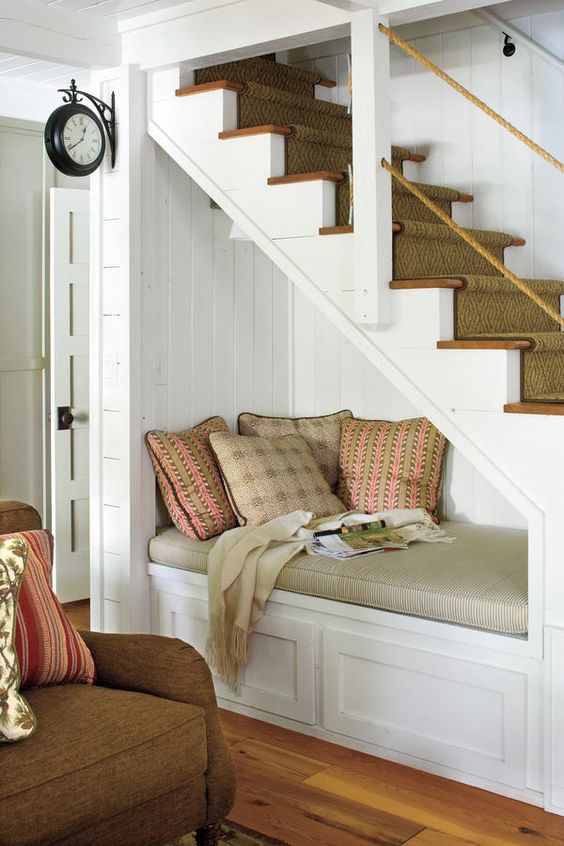 Photo:Credit
Here is another smart idea how to utilize that awkward tiny space under the stairs. However, there won't be enough space for a bookshelf, candles, and cushions so you should use the space wisely.
22. Mixing rustic and contemporary design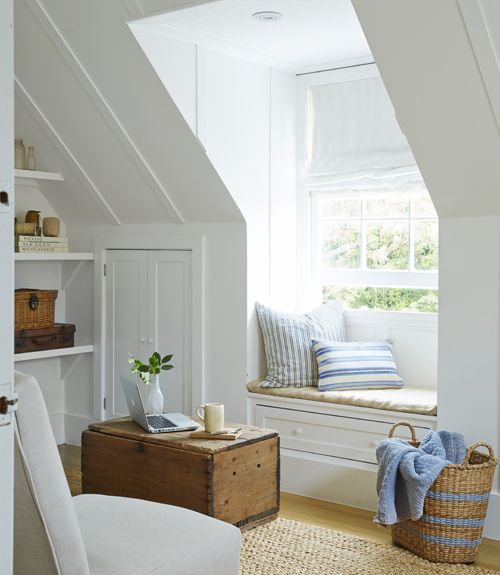 Photo:Credit
Having more than one style present in your home makes the interior looks more interesting and ends up sharing the story of each person who lives there.
Here is a great idea how to use an old rustic wooden box as a coffee table in a contemporary home.
23. The reading nook pillows are a game-changer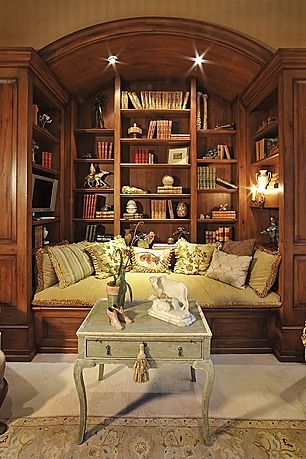 Photo:Credit
…and this picture proves it! You can easily refresh the old-fashioned reading corner just by adding some colorful pillows and a stylish vintage coffee table.
24. Using contrasting colors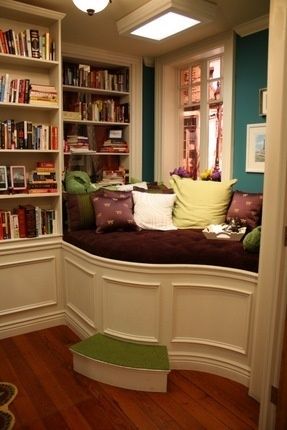 Photo:Credit
Decorating the reading nook with contrasting colors  (also well-known as complementary) cannot be a bad idea! They reinforce one another when used together.
25. Flowers brighten up any atmosphere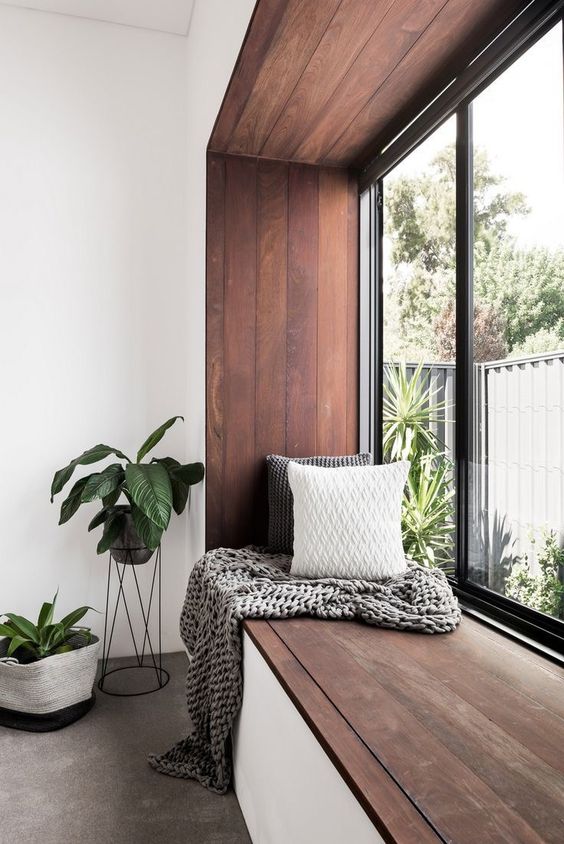 Photo:Credit
Flowers have the potential to bring life and joy to every room. So consider the option to refresh the space around your reading / relaxing nook with some plants.
26. Use the under window space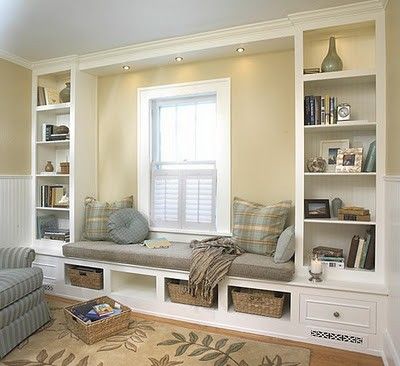 Photo:Credit
Once you turn the window space into a lovely reading nook, think how to use the odd size space wisely. Here is one good idea to start.
27. Cozy reading nook by the fireplace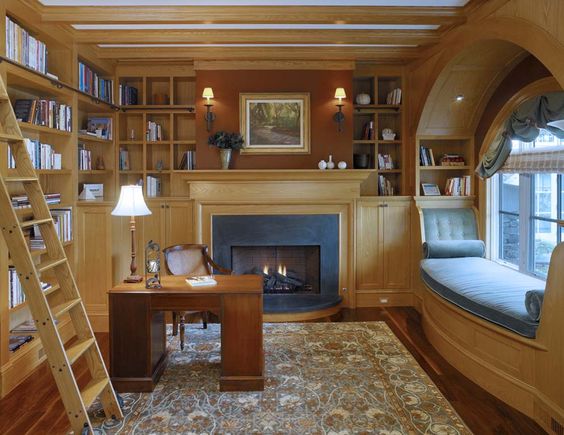 Photo:Credit
The fireplace symbolizes safety and security. It's also a symbol of the family, as it is the place where the family gathers for comfort. Where else to enjoy your favorite book then?
28. Oriental touch to the decor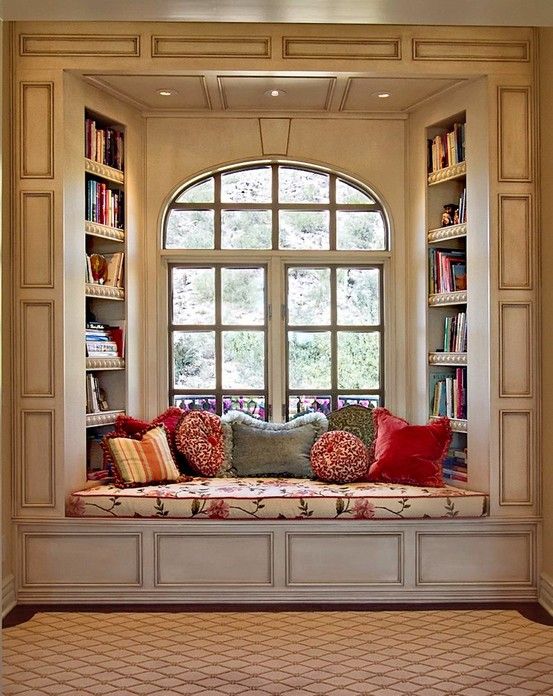 Photo:Credit
Adding an oriental touch to the decor (authentic carpet, vivid colors etc.) would never be a wrong decision!
29. Indoor elevated playroom reading nook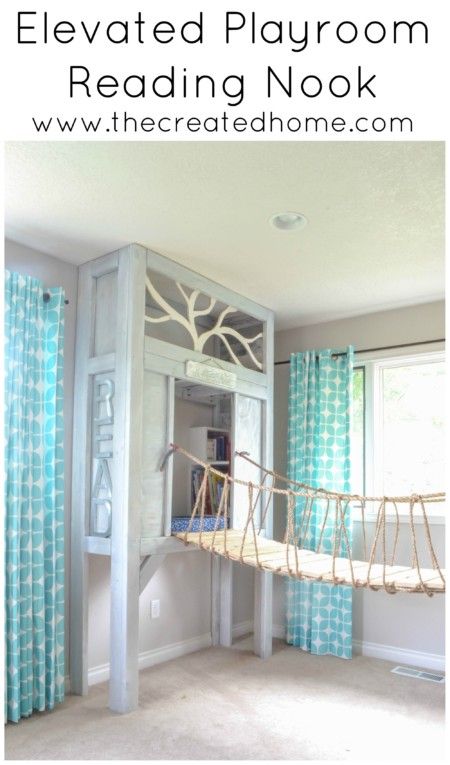 Photo:Credit
It does remind you of the backyard's treehouse from your childhood, right? It's actually a smart way to help your kids enjoy reading.
30. Wooden rustic reading nook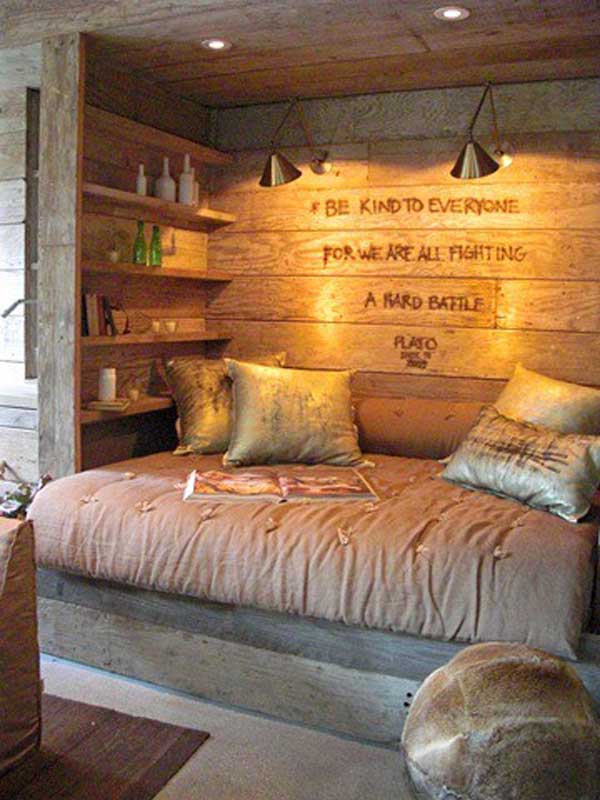 Photo:Credit
This is a great option for a farmhouse or a rustically styled townhouse. The wooden furniture pairs with industrial lighting, pale colored sheets and empty glass bottles of wine or beer (as shown above).
31. Reading nook bench in between two bookshelves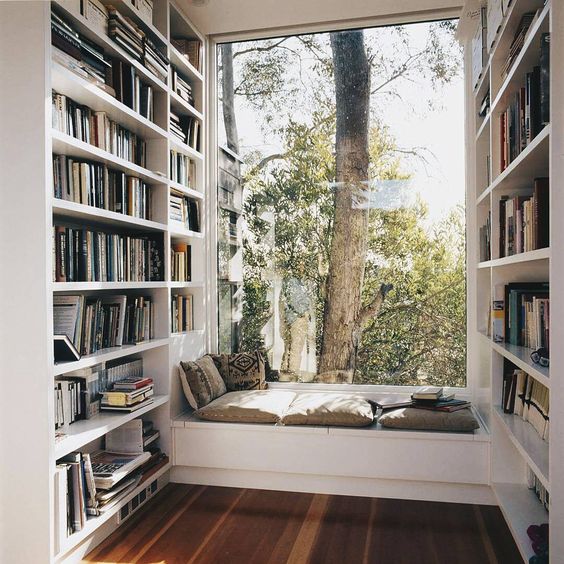 Photo:Credit
It does look like a cute mini home library that every bookworm would love!
32. Cozy reading nook with curtains and built-in storage sections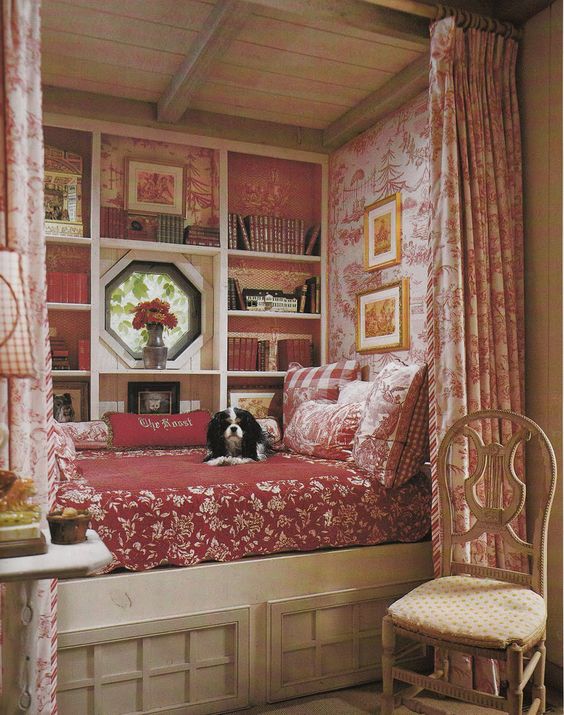 Photo:Credit
This old-times romantic space in vivid colors doesn't only give you the well-deserved privacy but also offers enough storage space.
33. Bring a Japanese simplicity into your interior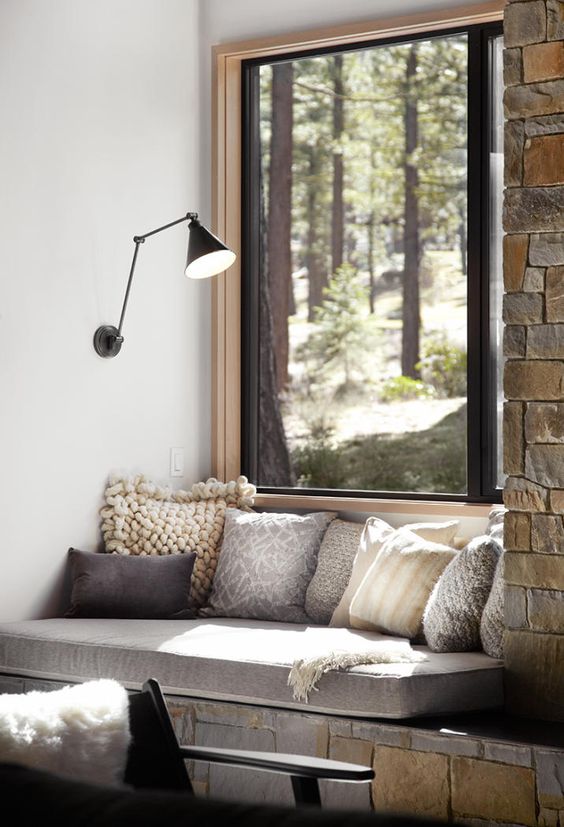 Photo:Credit
Here is another great option to convert the unused space between the walls in a simple but stylish stoned DIY reading nook just by adding some cushions and appropriate lighting. Easy, huh?
If you liked the reading nook selection, you'll love our 10 Incredible DIY Pallet Ideas With Low Budget